H.E. Festus G. Mogae, President of the Republic of Botswana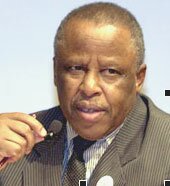 In this scholarship essay we will talk about a profound personality, President of the Republic of Botswana. His Excellency was born on 21st August, 1939 at Serowe in the Central District of Botswana. He matriculated at Moeng College and went on to train as an Economist at the Universities of Oxford and Sussex in the United Kingdom.
He took up post as Planning Officer in 1968 and progressed to become Director of Economic Affairs. He was Permanent Secretary, Ministry of Finance and Development Planning from 1975 to 1976. He became Alternate Governor for Botswana at the International Monetary Fund, African Development Bank and the International Bank for Reconstruction and Development from 1971 to 1976. His Excellency served in various parastatal boards, as, Member of the Board for Water Utilities, Botswana Housing Corporation, Botswana Meat Commission, Botswana Meat Commission (United Kingdom) Holdings, ECCO Cold Stores Limited and Allied Meat Importers Limited. He was also Director, then later Chairman, Botswana Development Corporation, Representative of the Commonwealth Fund for Technical Cooperation, Director of the De Beers Botswana Mining Company (Pty) Limited (Diamond Mining Company), Botswana RST Limited, Bangwato Concessions Limited, BCL Sales Limited and Bank of Botswana.
His Excellency served in Washington, DC as Alternate Executive and Executive Director, International Monetary Fund for Anglophone Africa from 1976 to 1980. He then came home to take up the position of Governor of the Bank of Botswana from 1980 to 1981. From 1982 to 1989 His Excellency was Permanent Secretary to the President, Secretary to the Cabinet and Supervisor of Elections.
He was appointed Minister of Finance and Development Planning in 1989 and became Vice President in 1992, until 31st March, 1998 when he became Third President of the Republic of Botswana. He was Chairman of Southern African Development Community (SADC) Council of Ministers from 1992 until 1996.
By virtue of his position as Vice President, he was also Leader of the House for Botswana National Assembly. In 1994, he contested in the general elections and won a seat for the Palapye Constituency. He was an active member of the Botswana Democratic Party and served in various committees of the party including, Member of the Botswana Democratic Party Central Committee and Chairman of its Finance and Economic Committee, and Member of the Central Committee responsible for Letswapo Region from 1992 to 1995. He was also Member of the Commonwealth Parliamentary Association, Member of the Parliamentarians for Global Action based in New York and the Global Coalition for Africa based in Washington DC.
His Excellency was Governor for Botswana for the International Bank for Reconstruction and Development, Member of the Joint Development Committee of the World Bank and the International Monetary Fund on the transfer of real resources to developing countries, Washington DC from 1989 to 1990.
He is also involved in community oriented Organisations which include Kalahari Conservation Society, Botswana Society (Research Organisation) of which he is President, Lions Club of Palapye, President of the Botswana Society for the Deaf, Patron of the Junior Achievement Botswana as well as Chairman of the National AIDS Council (launched on 30 March, 2000).
He was awarded the Presidential Order of Honour of Botswana (1989), the Officier de IOrder Nationale De Cote dIvoire (1979). IOrder Nationale du Mali and the HATABs Award for Outstanding Contribution to Botswanas Tourism Industry (1997). Honorary Degree of Doctor of Laws University of Botswana (Sept. 1998). He is a recipient of the Global Marketplace Award by the Corporate Council on Africa - Houston, USA (May 1999). He was awarded Honorary Fellowship of the Botswana Institute of Bankers Gaborone, Botswana (July 1999), the Distinguished Achievement Award for Aids Leadership in Southern Africa by the Medunsa Trust, Washington D.C., USA (June 2000) and the Harvard Aids Institute 2001 Aids Leadership Award - Gaborone, Botswana (December, 2001).
His Excellency is married with three children born between 1969 and 1987.